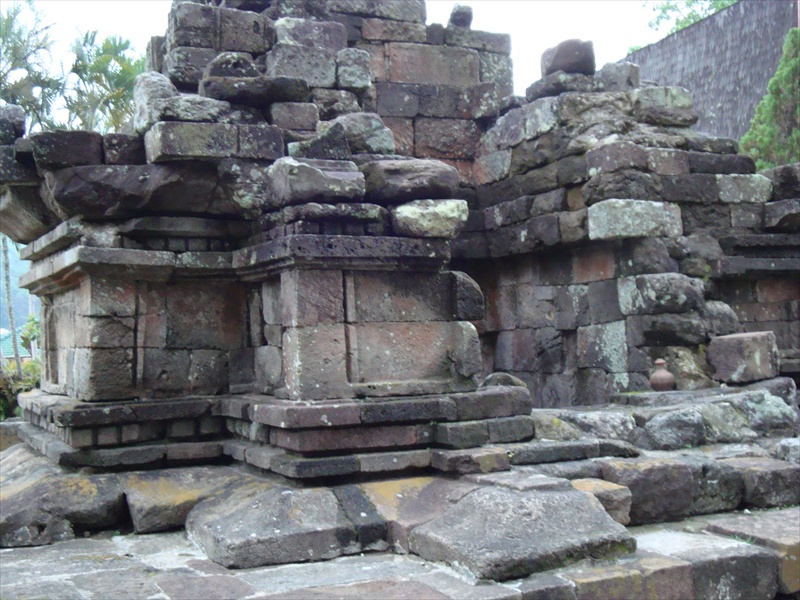 Songgoriti is a hot spring attraction located at Batu city, East Java. But few people know that this area has a temple. The temple only half intact, relief and statue are not intact anymore.  The size is not that big, only 14.30 x 10.10 meters and 2.44 meters high, and located behind hotel fence.
Actually Candi Songgoriti location is located on a valley that devides Mt Arjuna with Mt Kawi. The temple is built on a spring that in the past was believed to heal various disease. The temple building was made of andesit block and the foundation was made of red brick. Only the foot temple and part of temple body that can be seen currently. The period when the temple constructed is not known, but estimated, built in Mpu Sindok period, when. Central Java authority moved to East Java around 9th century.
The architecture is very simple, and this temple is one of the oldest temple in East Java and with typical Central Java style. The remain of the body has niches. The east niche is placed with Ganesha statue, and the statue is damaged. The north niche is empty, but the statue is located in temple area,not attached to the temple. This statue is Agastya.
This temple was recorded firstly by Van I Jsseldijk in 1799, and then by Rigg in 1849 and Brumund in 1863. In 1902, Knebel did inventory to site and followed with renovation in 1921. Later renovation was done in 1936 to 1946. In the renovation discovered a stone box with lingga and yoni inside, that were made of gold and bronze, coins, and gold with god name.
From the items discovered and agastya statue, we can conclude that the temple is Sivaistic temple. The function of the temple has not been discovered, only estimated it was used as shrine for certain ritual, as the temple room has sulfur hot spring. This spring water is currently chanelled to hot pool, located nearby Candi Songgoriti.